09.26.11
Fuck 6 Women Per Week Guaranteed: Pornography Advertising as Mainstream Content Cycle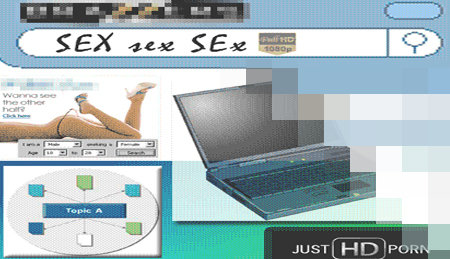 In my recent essay Idea Porn and the Age of Obscure Commodity, I tried to undermine the fashionable singularity of compelling visual information. I tried to attach the valuable infographic to a condition in which an infographic might be a wonderful currency in the bargain for our psychic health.
Now, I would like to focus on a different user experience journey: pornography. In his essay "The Ecstasy of Communication," Baudrillard writes:
"[T]oday the scene and mirror no longer exist; instead, there is a screen and network. In place of the reflexive transcendence of mirror and scene, there is a nonreflecting surface, an immanent surface where operations unfold-the smooth operational surface of communication."
He speaks of media functioning, and of the obscurity of the functioning. He understands how modern media can be violent and cool and calm, all at once.
Pornography does not flow from the same origin as hyper-graphic information (hyper being the intensified, hyperlinked infographic). Here, there is a smoother purpose, something sweet and playful, though still screen-based. Pornography is the sexual tradition of moving images. It is theatrical - it pulls with a different rhetoric. The motives behind pornography are clearer, less political, maybe.
And yet, there is something very emergent in the way pornography is being digested en masse, in the form of online porn aggregation. The forum where images of sex appear, free of change and with a vast variet,  is a recent construction with perhaps no precursor. These websites - xtube, redtube and youporn among others - collect and distribute clips of full length pornographic films, making revenue from advertising which appears both as content and as Flash banner ads to the side of the video frame.
Ostensibly there is a quality of amateurism in these sites. There is something tantalizing about a free exchange of smut. As Zabet Patterson writes in Going Online: Consuming Pornography In a Digital Era, "The amateur subgenre most significantly engages with the opportunities for 'interaction' and 'self-production' offered by the Internet."
A theorist might see the opportunity to merge reality with fantasy - a typical porn user will be aware of the ways porn conventions carefully separate the two sexual poles.
The problem with this potential-of-amateur-web-porn observation: not much porn seems to be amateur. There might be instances of people uploading their own home-made porn. However, the vast majority of clips appear to be somewhat produced. Many are explicitly the work of exterior paysites. So, the separation of fantasy and reality remains intact, even in 2011 (ha poststructuarlists!). What may be deteriorating is the separation between content and corporation. Let me focus on this point.
The line between content, content creation, and advertising is becoming blurry in an unsettling new way. These porn collection sites actually replace every traditional node in a media consumption ecosystem with two fundamental locations: search and upload. Baudrillard might still try to call these functions "screen and network" but we understand he was thinking - in the widest possible sense - about media interaction. Both nodes are selling, neither nodes involve a sale. Sexually speaking, it's an economic disaster waiting to happen. Lots of screens, lots of buttons with nice gradients, not a lot of money changing hands - but we still get off.
Behind the search function is the individuals desire for a specific content. For example, a certain fetish might impel someone to search for a specific kind of content, like green alien porn. The search is accomplished and clips appear. Most of these clips will be ads for full-length films.
The upload function has been accomplished by the makers of alien porn. We will call them professionals because they hired talent, rented cameras, and attempted to follow the porn laws in their remote municipality. They provide these images, with the hope that we will pay for others.
But what if we never pay? What if the alien porn clip does the trick? What if we never visit the paysite?
Or, more pressingly, isn't this exactly how YouTube works?
It's a devastating model for media, and pornography is at the forefront. The line between advertising and content disappears and we become accustomed to the free stream of images - the paywall is never crossed. The entire porn search aggregation system actually conditions us to accept the sell as the product;  in the same way,  the music video becomes a satisfying replacement for the vinyl album.
It's happening in porn because our culture doesn't value sex - or rather - banishes it to the far reaches of the deleted browser history. We don't feel great about watching porn - so we accept this brave new media model. Will acceptance in this area fuel a total distortion of traditional media venues? Will the cinema ads at beginning of feature films begin to lengthen until the feature itself is an end to the story of consumption offered by the endless series of sponsor motiongraphics?
Probably not.
Tumblr actually ends most of the anxiety arguments concerning the degradation of media quality. And Tumblr is just a visual version of Napster. People like quality enough to steal it. They hate marketing enough to avoid it whenever they can. Tumblr solves the spiritual problem of content-as-advertising, without solving the economic one. Napster did the same thing with music, ensuring a level of quality by making everything accessible, but at the same time destroying the business model for all paid media.
Porn aggregation locates a venue for a hyperdense advertising model - a model only sustainable because the content being sought is so objectionable, so taboo. (Are you smiling as you read that? Can we really say porn is taboo anymore?) [Formerly] taboo subjects offer advertisers a window into a world where they can do whatever they want, fashion entire landscapes of fantasy and consumer conditioning. They get a pass, for now, because we haven't completely come to terms with porn, as a culture.
Porn isn't meaningless or marginal. It's a modern user experience journey, like any other. We click a link and search for a term. Eventually we are satisfied. In the process, we change the way the world functions, we change our relationship to people and images.